A Blog About why Marrakech is the perfect setting for an Elopement
Planning a Marrakech Elopement is a fabulous idea! Eloping is getting married on your own terms, without the stress and expense of a traditional wedding. Marrakech is one of the best places in Africa to marry. Take a look at this blog if you are planning an elopement or even just thinking about it!
Elopement is a growing trend in the wedding world and many are drawn to its unconventional appeal. It's an opportunity to step outside the norm and create a wedding you always wanted. This isn't your traditional, bridezilla-filled cake celebration with many guests. No, eloping is a day for just the couple getting married and maybe your partners and/or closest friends, the ones who have seen you at your best AND your worst. It is a day to celebrate love with people you wish could join you and your love.
Here are the main 3 things we'll be covering…
What is an elopement?
How to have an amazing elopement.
Why Marrakech is a hotspot for elopers.
What is an elopement?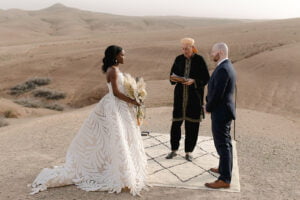 A much more intimate way to say 'I do', elopement has become a hot trend when it comes to tying the knot. Traditionally, elopement was the act of 'running away secretly to get married'. The ceremony usually involved just the bride and groom and maybe a few friends. Elopements usually happened when the parents of the couple disapproved of the marriage.  However, the definition has changed a little bit, especially in western culture...
Nowadays, elopement typically means a small intimate wedding, usually abroad, with your closest friends and family.
As a wedding planner, I most commonly hear this word during the wedding planning stages in the form of a question (that I'm very happy to answer), "What happens if we want to elope?" Truthfully, I proceed with caution through this conversation because I want to be sure that they realize that this is not simply booking your own venue, getting your own cake and flowers, and having a stranger you met online taking your photographs. Elopement is much more than that. It still requires lots of planning and organisation, but on a much smaller scale.
How to have a dreamy Marrakech Elopement...
Marrakech Elopement has become incredibly popular over the last few years and is no longer something that is only talked about behind closed doors. While I can understand why it's all the rage at the moment (I mean, the idea of sharing your experience with just close family and friends while maintaining an air of intimacy is rather appealing), I frequently get questions about how people can make eloping affordable.
The Venue
With Marrakech being such a popular destination to get married, prices for venues can be very steep, especially at peak times.
Marrakech has a lot of exotic, romantic yet affordable venues for elopements and intimate weddings. Our top choice normally is the desert of Agafay or a beautiful riad that dates back centuries.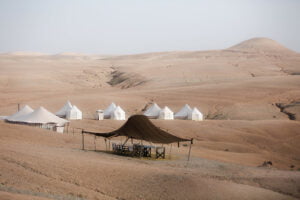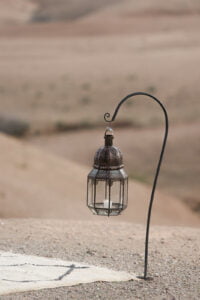 The key to saving money is to avoid popular venues. The best way to go about finding one of these venues is to find a good, local wedding planner. They will have all the local contacts needed to secure a fairy-tale venue at a good price. If you'd like to know a bit more about the kind of venues Marrakech has to offer, along with an idea of price, then feel free to contact us here and we'd be delighted to help.
Keep it local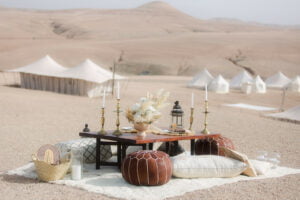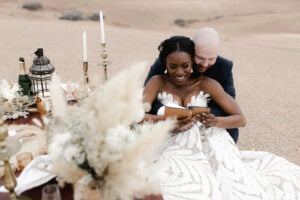 An important thing about an elopement is to have a local elopement planner on the ground on the wedding day and organize all the respective suppliers and take care of the set up so you can relax and enjoy your wedding day.
Why Marrakech is a hotspot for elopers.
If you're thinking about tying the knot in a place with good weather, beautiful colours and heaps of romance then Marrakech is the destination for you! This is the ultimate destination for a small wedding (we're not biased… promise!!). The beautiful riads are a very original setting for a small intimate wedding and also the nearby desert.
Marrakech is also known for its incredible hospitality and culture. This is due not only to the country's love of weddings, music, arts and festivities but also because of the strong traditions still kept alive by locals.
A few places to visit
The Medina in Marrakech is easily one of the most colourful, busy, and vibrant places on earth. This labyrinthine maze of alleyways and souks is lined with shops that sell everything you could ever need, from brass vases to alpaca jackets. The hustle and bustle of the Medina come to life at night when the spice-scented air is illuminated by the strings of lights and bold colours decorating the buildings. It is a great backdrop for photography.
Take a peek inside the Jardin Majorelle, a beautiful garden filled with plants and water fountains. The garden is world-famous for its creativity, art and beauty. This oasis for plants in Marrakech, Morocco is perfect to combine your visit to this beautiful city with an afternoon of relaxation at this beautiful garden.
A landmark African World Heritage Site, Palácio da Bahia attracts many visitors from around the world. If you ask any first-time visitor to Morocco for a sightseeing recommendation, it's likely the palace will be on top of their list. It is a fabulous fusion of architectural styles which showcases various European influences on Moroccan design and artwork. The towering minarets, intricate mosaics, mint-colored walls painted with floral motifs, domed ceilings and carved-wooden screens all combine to make this vast 11-hectare complex
Takeaway:
Planning a Marrakech elopement is incredibly exciting and you get to have a once-in-a-lifetime adventure on the side!
Check out the photos of a recent elopement we had in Agafay desert with our beautiful couple Maya and Matt. We embarked on this adventure with a magical crew of suppliers.
We're more than happy to help if you have any specific questions, feel free to contact us here.
PartyMaroc wishes you all the best for your future wedding.